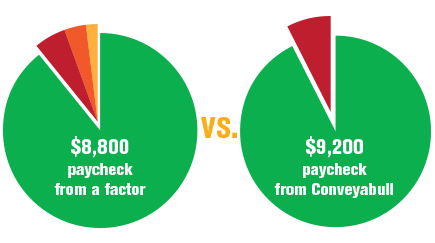 Conveyabull Express Pay
With our Express Pay program, you have the option to get paid weekly. No enrollment fees, annual contracts, termination fees, minimum monthly fees, funds control fees, hidden penalties and interest charges.
No banks, middle men, or factoring companies.
With a factoring company, you're not just paying the factor fee. You're covering underwriter fees, processing charges, sign-up costs, and more. And you could be on the hook for the invoice too if they don't receive it on time!
With Express Pay, you get discounted payments each week to help cover expenses and there's no additional penalties to stress about. Weekly payments & one easy discount will keep your cash flowing so you can relax, and do what you do.